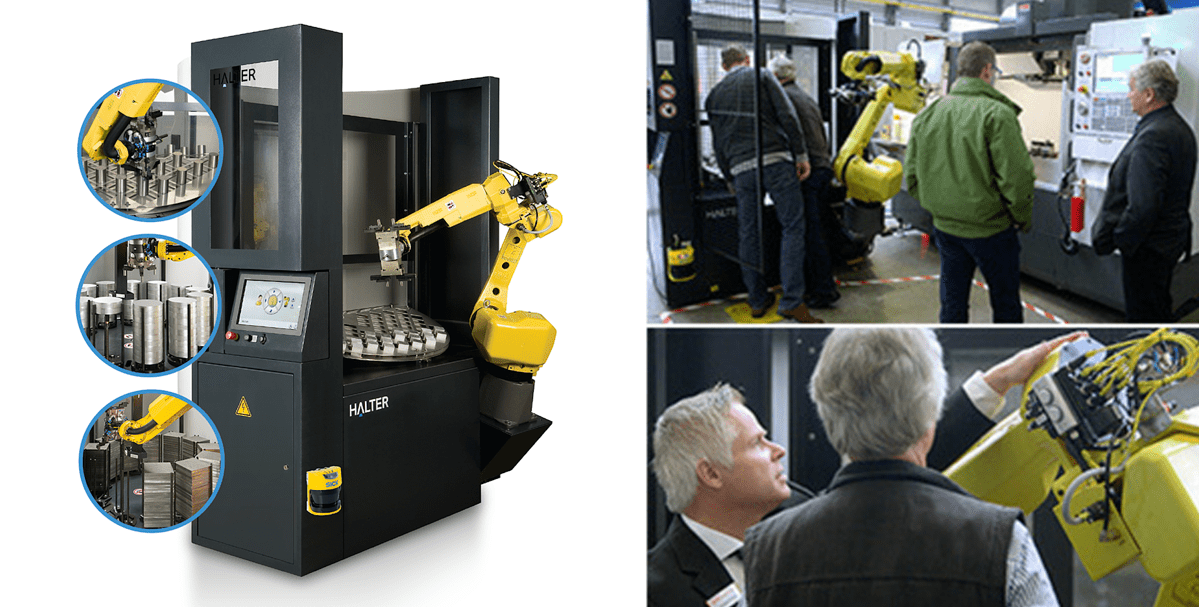 1st Machine Tool Accessories invites you to:
HALTER CNC AUTOMATION DAYS
DISCOVER THE ADVANTAGES OF THE HALTER LOADASSISTANT
Are you looking for the right solution for automatic loading of your CNC machine?
Would you like to become more competitive and increase your profits in an efficient way?
Are you finding it hard to get enough skilled workers?
Join us on 1st and 2nd December in Coventry at our host Fanuc UK for an automation workshop.

Live demonstrations and workshop
During the day, participants will get a complete picture of the technical features of the HALTER LoadAssistant systems. Experts will be available to answer all your questions and provide you with answers about all the options for your production. They will also be able to calculate the return on your investment with HALTER LoadAssistant, based on your exact product and production.
In addition, we offer you the opportunity to attend the following presentations:
How to implement HALTER LoadAssistant in your Production
Rik Peer, Business Development Manager at HALTER CNC Automation, will explain the benefits of standard automation. He will not lonely present the technical features of HALTER LoadAssistant systems, but will also demonstrate the implementation process in your production, including safety and CE for connected machines.
Industry 4.0 – Get Started Today!
Wouter van Halteren, CEO of HALTER CNC Automation, explains that the journey in Industry 4.0 has already begun, even for small and medium-sized companies. But how to become part of this evolution? How and where to start? What really makes sense? He will explain how SMEs are taking this journey in practice and in what stages. With practical step you can start today, he will give you the tools to manage this journey!
Date and Time
1st and 2nd December 2021
Daily Programme
0900-1700 Practical demonstration of HALTER LoadAssistant by Halter experts
1000-1030 How to implement HALTER LoadAssistant in your production
1100-1130 Industry 4.0 – Get started today!
1300-1330 How to implement HALTER LoadAssistant in your production
1400-1430 Industry 4.0 – Get started today!
Refreshments
Refreshments will be provided
Event Location
FANUC UK LTD
Sapphire Way
Ansty Business Park
Coventry
CV7 9DR
We look forward to welcoming you at our event, you can register below. See you there!
REGISTER HERE
Thank you for deciding to discover the advantages of the Halter LoadAssistant
Please complete the form below to register your attendance.