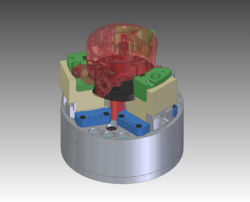 Every workholding project is different. Here at 1st MTA we understand that when certain jobs come in, your workshop may not be ready.
Our technical experts love a challenge, they've got together to outline the key scenarios that call for bespoke workholding.
That big job that you're not sure where to start with
Large forgings can really get in the way. If you are not sure where to start we can help you along the way. Using our bespoke fixturing and workholding we can help all the way from specification, through concept and on to manufacture with our technical team's in-depth knowledge of workholding solutions.
Using our large range of products we can set you up with the product to suit you. Once you are happy with the solution you can expand on it using our standardised range, allowing you to grow your range of workholding to meet your requirements.
The never-ending job you need to get out of the door
Not everyone has an automated production line. We aim to make the most of your existing machinery to increase efficiencies. Whether you're looking to decrease your set up, increase the walk away time or present more to the spindle, thinking efficiently can really get things going.
Alongside our solutions we can develop and present turn-key solutions tailored to your needs. Having your workholding manufactured to meet your requirements meaning it can be delivered to your workshop ready to get cutting.
Is your chuck struggling to grasp the problem?
If your standard chuck is not gripping efficiently for your processes, we can create custom solutions to utilise your existing equipment, to ensure your end product is machined to the required standards.
No matter what equipment you are struggling to adapt, we will present the most streamlined and simple solution to machine your job.
Contact Us
If you think bespoke workholding could benefit your production, talk to a member of the team today on 01725 512517, by e-mail at enquiries@1mta.com, or arrange for one of our technical representative to come to you to discuss your needs.