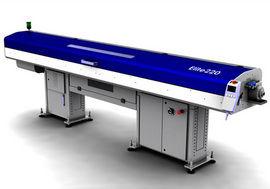 In response to the growing needs of the medical and other small precision parts manufacturing industries, Iemca have introduced the Iemca Elite 220. The 3.7M magazine barfeeder is totally innovative in terms of perfomance, flexibility and simplicity of use.
The Elite 220 is designed for sliding headstock applications from 2mm to 23mm, even on lathes with very high spindle and headstock acceleration speeds. The barfeeder performs without any limitations to lathe performance.
The Elite 220 features a redesigned bar pusher with dual bearings to complement new Swiss Style machines with high acceleration and even higher rotational speeds up to 20,000 RPM. This new design makes the Elite 220 the best performing barfeeder on the market for precision machining.
Additionally the Elite 220 offers excellent small diameter bar handling with its "Special Step" magazine or it can switch to gravity feed for larger diameters. The changeover time from "Special Step" to gravity feed is just 2 minutes.
Another advantage of the Elite 220 is that job setup values can be stored in a library in the control to be reused for quick setup on future jobs. No special adjustments are needed to work with small diameter stock.
1st MTA provides installation and training services with all of its barfeeder loader automation solutions.
The Iemca Elite 220 along with the entire range of Iemca Barfeeders are available from 1st MTA.