Established in 1981 Leave Industrial Co., Ltd offers a high-quality range of jig and fixturing products. Sold successfully in all industrialized countries and with more than a thousand variants to enable the user to assemble customised workholding solutions to handle difficult workpieces with irregular shapes at a fraction of the cost or lead-times associated with custom-designed jigs and fixtures.  The products include:
Ready-to-use baseplates, angle plates and cubes
Positioning, support and auxiliary components, including universal stops, mechanical and magnetic clamps, supports, jaws, vices, bushes, blocks, dowels and accessories to enable
SVF Flexible Up Vice Series for increasing machining centre productivity and reducing labour costs.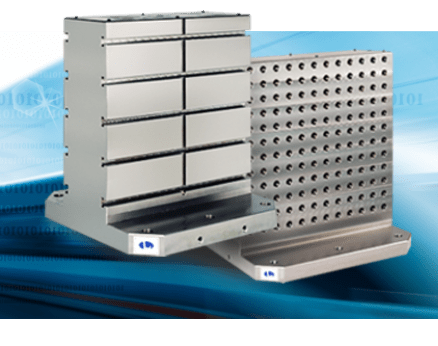 All key components are hardened and ground for accurate workpiece location and extended service life.  As a result, LEAVE equipment can be repeatedly re-configured to suit applications for single or multiple components measuring from a few millimetres to more than one metre in size – avoiding the need for valuable workholding resources to be dedicated to specific applications. Additionally, the system provides precise co-ordinate specification and fully adjustable datum planes for simplified part programming.
Combining high clamping capabilities with extreme flexibility and positional accuracy LEAVE fixturing and workholding equipment can be mounted on all types of machine tools. Furthermore, assemblies can be fitted with hydraulic or pneumatic clamping units, or mounted on rotary tables to meet the most diverse of manufacturing applications.