Customised Solutions From MTA
Description
Quick and reliable workholding is essential and 1st MTA not only offers a vast range of standard equipment but also provides customised workholding solutions to suit individual application requirements.  Such bespoke equipment can solve complex production problems or, in standard applications, substantially reduce set-up and idle times. 1st MTA's aim is to provide:
Extra Versatility
Fewer Clampings
Higher Efficiency, Accuracy and Repeatability
Further Information
These tailored solutions, wherever possible, will be based on components from the extensive standard range; by using this modular approach there are significant cost and time advantages to be gained and in the majority of cases successfully solutions are devised to problem components on this basis.  However, MTA is just as happy to go back to basics and produce totally bespoke "one-off" items to meet customers requirements.  Whichever method is used it will be securely based in the company's wealth of in-house workholding experience with the latest generation design and visualisation technology.
Once relevant dimensional data – which can also be accepted by fax, post or email – has been imported into MTA's advanced CAD/CAM system, a 3D visualisation of the problem part is mapped enabling preferred location points to be determined and potential material clashes to be identified quickly and easily.  The system also permits alternative approaches to be evaluated rapidly on screen, so that the most appropriate solution can be identified.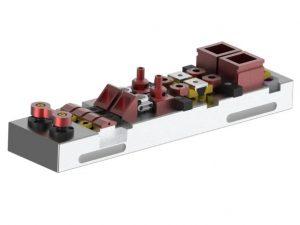 A Chick System 5 faceplate set with a variety of Mitee Bite and OK Vise clamps allowing multiple different parts to be machined in a single operation.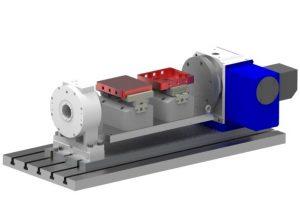 Kitagawa 4th axis with custom trunnion fitted with Best pneumatic centric grippers with independent operation to allow automated load/unload.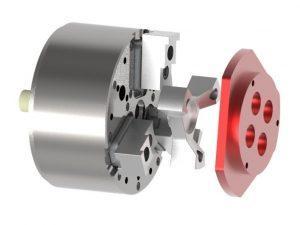 Kitagawa DL208 chuck with two stage gripping, clamp and pull back, fitted with custom part locator providing accurate location every time.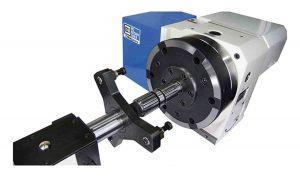 A Kitagawa KEM dual-sleeve mandrel mounted on a rotary table. Hydraulically actuated and supported by a special hydraulic tailstock, this configuration is ideal for automated machining cells, allowing multiple parts to be robotically loaded and machined.
1st MTA for all your workholding requirements