Finger Chucks for Wheels
Description
For the manufacture of Automotive Wheels
Further Information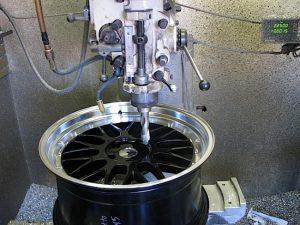 Since its founding in 1918, Kitagawa has established itself as a leader in the global supply of power chucks.
As well as the standard power chuck range, there is the range Advanced chucks which includes Finger Chucks for the automotive industry.  Kitagawa uses its experience to improve and maximise the effectiveness and efficiency of workholding products for the automotive industry, allowing it to provide customised products and solutions worldwide thereby optimising the customer's manufacturing processes.
There is a specialised team of engineers dedicated to customising Finger Chucks to suit your requirements, they offer meticulous attention to detail to provide an individual optimised solution based on your production facilities and requirements.
In the increasingly competitive world of automotive wheels, Kitagawa Finger Chucks offer a solution you can trust.
FG-V Series – High Rigid Body for Vertical Lathes
FG-L Series – Standard Light-Weight Body for Horizontal Lathes
FG-M Series – Light-Weight and High Speed for Motorcycle Wheels
FG-Q Series – Quick Change Fixtures for Faster Set-Ups for Machining Various Wheel Sizes