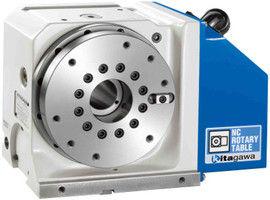 1st Machine Tool Accessories supplies a wide range of Kitagawa Rotary Tables that are suitable for a variety of different machining needs.
HIGH CLAMPING TORQUE – HIGH RIGIDITY – HIGH SPEED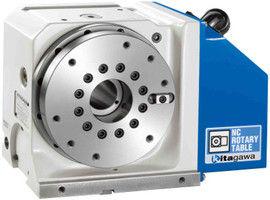 High-clamping torques, extreme rigidity, and fast operation are key features of Kitagawa's heavy duty GT series of rotary table. Available in three models from 200 to 320mm diameter, the units incorporate a novel piston design that delivers component clamping torques of up to 2,800 Nm.
Productivity is futher enhanced by the tables' rigid yet compact design, which allows maximum metal removal rates to be combined with high indexing accuracy and repeatability. The series also features a rapid clamping action for reduced cycle times and maximum production throughput.
MULTIPLE SPINDLES – REDUCED SETUP TIMES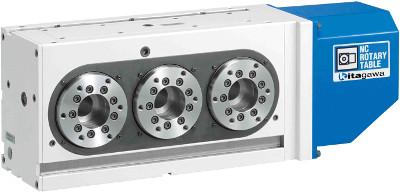 The Kitagawa TM series of rotary tables are available with multiple spindles for multiple work piece machining. The multi-spindle design reduces set up times and therefore increases productivity. The TM series comes with either two or three spindles, and either 105mm or 165mm diameter faceplates.
With a mono-block body and compact design, the TM series rotary tables are ideal for tapping machines with high speed rotation.

1st MTA offers an extensive variety of Kitagawa rotary tables to boost the productivity of CNC machine tools by exploiting the benefits of one-hit machining. The advantages of such a technique are: only one machine set-up; one fixturing set-up; cost and time savings associated with reduced parts handling; and the elimination of tolerance errors accumulated as workpieces are moved from machine to machine.
BOOK A TECHNICAL REPRESENTATIVE
If you would like to discuss the benefits a Kitagawa Rotary Table could provide you, you are welcome to book a FREE visit from one of our technical representatives by contacting us on 01725 512517 or enquiries@1mta.com. We look forward to hearing from you.