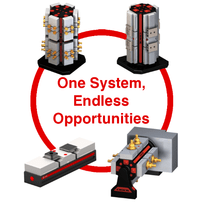 Chick Workholding System 5 was designed with flexibility in mind. The entire range of System 5 products work together to maximize your productivity and drastically reduce your repeat setup time. Select from a variety of easy set-up machinable accessories to create endless opportunities.
The System 5 Family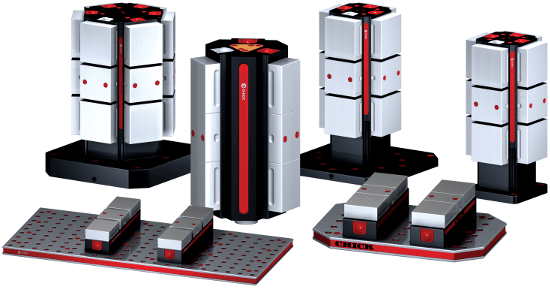 For vertical machining, the Qwik-Lok has the ability to reduce set-up and changeover times, plus maximise the number of parts in a single machining cycle, keeping the machines cutting and making money. The Qwik-Lok's easy-to-use dual station jaws increase productivity and walkaway time, with a range of other machineable jaws also available. The innovative design reduces jaw lift while optimizing clamping force, ensuring your parts are clamped safely and securely. The clean, closed surface provides maximum chip control, easy maintenance, and simple clean-up.
The Multi-Lok is the perfect solution for horizontal CNC machining. What is essentially multiple Qwik-Loks arranged as a tooling column, the Multi-Lok takes full advantage of your machine by providing the accessibility of three part sides, thus decreasing cycle times and increasing the accuracy of your parts. Available in different shapes and sizes, the Multi-Loks are flexible enough to suit any part or machine.
The Chick Indexer Subsystem combines the productivity and versatility of the Multi-Lok with a 4th axis rotary table, thereby converting a vertical machining centre to work like a horizontal. The ISS gives you the ability to machine on multiple part sides with only one clamping, therefore decreasing the cycle time and increasing the accuracy of your part.
One System, Endless Opportunities
Thanks to the uniform nature of the QwikChange system, workholding setups can be transferred between different System 5 products. Jaws and faceplates on a Qwik-Lok can be used on the same size Multi-Lok or Indexer SubSystem, allowing for simple and easy scaling of production jobs, granting the flexibility to quickly meet any unexpected production demands.
Dual Station Machinable Jaw Sets clamp with an equal and opposing inward force, thus eliminating the potential for jaw lift. The safe low profile jaw interface maximizes the amount of machinable area, giving the ability to hold larger parts. Single Station Machinable Jaw Sets increase the flexibility of your system by eliminating the need to completely switch fixtures for jobs requiring greater holding capacity. Machinable Faceplates provide dedicated fixturing for those awkward parts that are too difficult to clamp, and can act as a zero point pallet changer.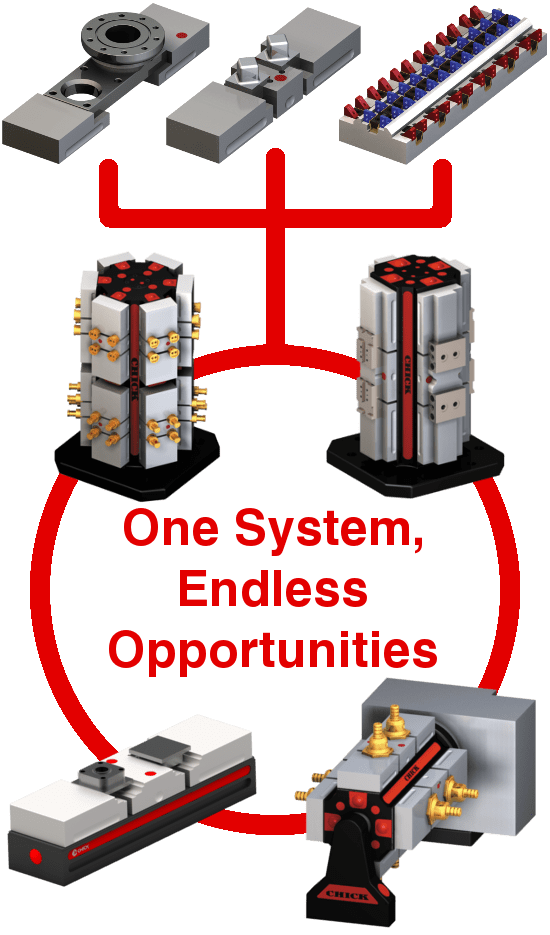 If you would like more information on the range of Chick System 5, contact us on 01725 512517 or enquiries@1mta.com to speak to one of our technical engineers or arrange a FREE on-site demonstration from one of our technical representatives. We look forward to hearing from you.