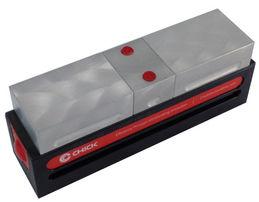 The ability to process multiple components in a single cycle is a key factor in enabling users to drive piece part costs down and their competitiveness up. It has certainly proved to be the case for Crabb Engineering in North Wales, which employs Chick Workholding equipment from 1st Machine Tool Accessories (1st MTA) at the heart of its manufacturing operations and machine tool investment strategy.
Based in Flint, Crabb Engineering is a 20-strong subcontract machining operation with a customer base that includes well known names such as Honeywell, Raytheon, Hawker Beechcraft, Motherwell Controls and Henrob. The ISO 9001/2008 accredited company was established in 1994 and acquired AVVA Precision Ltd five years ago, enabling it to reinforce its presence in the high value, optical, cryogenic and control equipment sectors.
"Most of our work involves close tolerance milling and / or turning operations in aluminium, mild steel and brass, as well as titanium, aerospace alloys and engineering plastics," says Crabb's sales director, Steve Fox.
"We initially investigated multi component workholding methods on a contract making pharmaceutical components. However, it was the opportunity to quote on batches of higher volume parts for a UK based building equipment specialist that proved to be the catalyst to take matters further."
According to Fox, Crabb's initial quote for the job proved too expensive. However, that changed when the job was re-costed using Chick's Qwik-Lok workholding system, which enabled the company to machine six parts in a single set up. Today, Crabb is the preferred supplier for the parts, not just on the basis of cost, but on its quality and delivery performance as well.
"Although keeping a tight rein on costs is extremely important, we don't necessarily expect to be the cheapest when quoting for jobs," says Fox. "Service and support are central to our offering to customers, which is something we also value from our own suppliers.
"When we invited 1st MTA – Chick's UK distributor – in to discuss our requirements, it soon became clear that they were looking to find the best solution to our problems, not simply to supply a collection of parts from the standard catalogue."
Crabb was also impressed by the quality of the Chick equipment and after the proposed workholding concept had been established in pilot tests, the company placed an order for three Chick Qwik-Lok vice units, complete with extra-wide dual station jaw sets.
Success
The use of Chick workholding vices proved to be an instant success, with Crabb ordering an additional three Qwik-Lok units and jaws within a month of its initial purchase.
"Not only are Chick base units robust and strong, but the system's jaws are easily profiled using standard tools," says production director, Ken Petryszyn. "They grip components securely using only minimal face areas and locate exceptionally accurately – providing excellent tool access, as well as fast, reliable and repeatable workholding over extended production runs. What's more, the jaws can be easily changed to suit new jobs, ensuring rapid set-up times."
As production volumes grew, Crabb streamlined its operations further by investing in four new Haas vertical machining centres, which are supported by the company's SolidWorks CAD installation and an EdgeCAM offline programming system.
The benefits of faster change-overs and enhanced machining accuracy provided by the Chick equipment also prompted Crabb to utilise the workholding system for other new and existing jobs – resulting in the purchase of a further 47 sets of interchangeable jaw sets, as well as three extra Qwik-Lok units within a year of their original specification.
"We have found 1st MTA's support excellent throughout, both in terms of recommending the most effective clamping methods for a particular application and in tailoring solutions to our requirements," adds Petryszyn. "Today, the Qwik-Lok system is an integral part of our manufacturing operations, being incorporated within dedicated kits that also include tooling, inspection equipment, set-up instructions and CNC programs for every job."
The company's extensive plant list is grouped into a number of manufacturing cells, with operators typically responsible for two or three machines each.
"Our investment in high capability manufacturing equipment throws the spotlight onto downtime in all its forms," continues Petryszyn. "If a machine is not cutting, it's not earning its keep. So, the ability to reduce set up and changeover times, plus maximise the number of parts cut in a single cycle have enabled us to achieve a payback on our Chick investment in well under two years. Furthermore, these are important factors in enabling us to maintain a flexible and responsive service to our customers.
"Machining accuracy is taken as read, which is why Chick's versatility and cost-effectiveness, backed by 1st MTA's applications engineering support, have complemented our machine tool investments so well. Together, they have helped us to streamline our operations and compete more strongly than ever for high precision sub-contract machining work across a wide range of business sectors."
The full range of Chick Workholding products are available from 1st MTA. If you have any questions or queries about products mentioned in this article, please don't hesitate to contact us on 0800 783 0510 or enquiries@1mta.com.