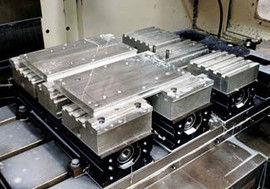 A pair of One-Lok vices from the US manufacturer, Chick, are boosting productivity at the Tiverton factory of Hepco Slide Systems, a leading manufacturer of linear motion systems. The company is currently using the vices to speed set-ups for production runs on a Hurco vertical machining centre. The workholding units are, however, easily transferrable to any machine on the shop floor.
Supplied by Chick's UK agent, 1st MTA, the One-Lok vices have helped to reduce typical set-up time for a new job from one hour to 40 minutes, according to Hepco process engineer, Martin Shapland.
It is because, unlike traditional machining vices that require dozens of turns of the operating handle between fully opened and closed, One-Lok features a fast-acting adjustment mechanism. It allows the moveable jaw to be unlocked and slid quickly to approximately the position it is required along the full vice travel, after which a few turns of the handle secure the part.
Mr Shapland said that clamping of each workpiece throughout a typical batch of 50-off is also faster, as there is no need to remove swarf repeatedly from the area around the leadscrew, which is fully enclosed and protected. Failure to prevent build-up of chips when using a conventional vice could eventually cause the mechanism to jam, resulting in at least an hour's interruption to production.
One-Lok incorporates Chick's new interchangeable jaw system that, with a single turn of a locking screw, speeds interchange of hard jaws. The latter were supplied by 1st MTA with a step machined at the top edge to assist the location of carriage plates.
Designed to fit onto Hepco's track systems, they vary from 50 to 150 mm in width, dictating the use of One-Loks with an 8 inch (203 mm) travel. Mr Shapland advises that it takes just 20 seconds to secure the largest plate after having previously clamped the smallest, whereas this would introduce a two-minute delay using a conventional vice. Machining of one-offs, therefore, is a particular strength of the One-Lok system.
Machining accuracy is further enhanced by the squeeze-clamping action, which applies an equal and opposite internal force to the fixed jaw as the moving jaw closes. The vice also imparts a pulldown action to the workpiece for increased security and precision.
Virtually deflection-free component clamping with repeatability of location to within 0.0008 inch (0.02 mm) helps Hepco achieve on features dimensional tolerances measured in tens of microns. This would be difficult to achieve using a standard vice, especially on larger components.
Chick Qwik-Loks stand the test of time
Another workholding solution from 1st MTA, called Qwik-Lok, was Hepco's first introduction to Chick products back in the late 1990s. Ten such units are in daily use on machining centres at the Tiverton factory, the more recent System 5 version having fast jaw change thanks to the absence of the previous pin release mechanism in the older M System version. It means that jaws can now be changed in 15 seconds rather than two minutes.
The twin-station vices squeeze two moveable jaws from either end against a central fixed jaw, cancelling the opposing forces to provide a reliable reference point. They allow two components to be machined in a single cycle to economise on tool changes and increase throughput. The two sizes of vice at Tiverton allow two times 180 mm components and two times 225 mm components respectively to be clamped, although both types can be converted to hold one component up to 380 mm and 480 mm respectively.
Some of the units at Tiverton have been modified with sub jaws to enable different widths of plate to be clamped quickly in succession. Additionally, they have been ganged to allow long plates to be accommodated across two, three or even four vices.
Prior to investment in the Qwik-Loks, Mr Shapland said that they needed 30 sets of jaws to clamp 10 sizes of plate in conventional vices. Now just one set of three jaws is required. On other Qwik-Loks, soft aluminium jaws have been machined to hold components of complex shape securely for accurate machining.
The Chick One-Lok as well as the System 5 Range are available from 1st MTA. If you have any questions or queries about the products mentioned in this article, please don't hesitate to contact us on 0800 783 0510 or enquiries@1mta.com.