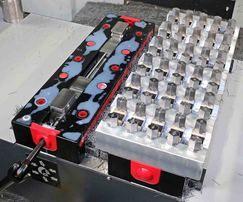 Clamping circular parts? 1st MTA has many economical solutions
If a component has at least one flat side, then securing it for a further machining operation, on a mill for example, is a lot easier than if the part is perfectly round. For the latter type of workpiece, clamping can be problematic, as there is a tendency for the component to slip and turn in the jaws. This is especially the case when more than one circular part is being held and when heavy cuts are being taken, which can result in lost production and scrap.
Soft aluminium jaws come into their own when clamping multiple round components, such as injection moulded plastic parts, as a leading British manufacturer of plastic bearings and gears, Knaresborough-based BNL (UK), found out.
On its US-manufactured Chick One-Lok workholding devices, supplied by UK agent 1st Machine Tool Accessories, the jaws are milled to accommodate multiple round parts. As the shape matches perfectly, they are held securely and without damage. It is never necessary to over-tighten, which is an advantage when dealing with plastic components to avoid marking delicate surfaces. Job set-up for repeat batches is rapid, as jaw sets are stored for re-use.
A further advantage is the speed with which One-Loks can be closed to secure a set of components. Unlike a conventional, wind-up vice, a ratchet system allows the movable jaw to be positioned instantly to within a few millimetres of closure, after which the clamping action is completed with just a few turns.
BNL supervisor Chris Hargraves said, "We machine up to 50 plastic components at a time on our Hurco machining centres and it used to be a time-consuming process. That is no longer the case with the One-Loks.
"The controlled clamping action produces a pull-down effect as the jaws close, so components are always seated firmly after the handle is tightened. Not only are workpieces secured faster, but accuracy, repeatability and safety are also improved."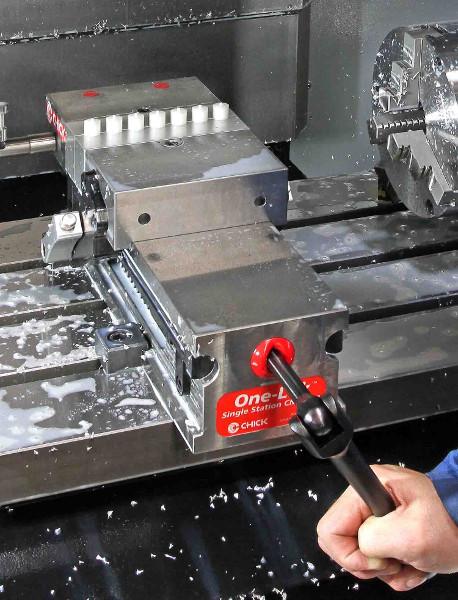 Round plastic components secured in pre-machined, semi-circular scallops in soft jaws on a Chick One-Lok workholding unit at BNL (UK), Kanresborough.
Low-cost zero-point faceplates
Another manufacturer that finds Chick products ideal for holding circular parts is turned parts subcontractor, Empire Manufacturing, Hoddesdon. One of its regular customers requires a lot of milling to be carried out on turned parts, too much for the sliding-head turn-mill centres on site to tackle economically.
Multi-loading of the EN16T steel dowel components was needed to reduce manufacturing cost per part, so the subcontractor turned to workholding specialists 1st MTA for a solution. After analysing the application, it suggested using two Chick Qwik-Loks, but not fitted with the standard, dual-station jaw sets. Instead, they are equipped with solid aluminium faceplates that act like zero-point pallet changers and repeat to within microns. With two machined recesses on the undersides that snap onto the Qwik-Lok slide assembly in the bases, the faceplates are secured in a matter of seconds.
In this application, the faceplates incorporate Mitee Bite Uniforce machinable clamps, also from the US and sold in the UK by 1st MTA, which were machined with semi-cylindrical recesses to hold the dowel components after they have been turned and ground. Clamping of each component is achieved by tightening a single M6 socket screw.
Two faceplates securing a total of 120 components are presented to the spindle of a Leadwell V32i VMC and profile-milled in a 40-minute cycle. The faceplates are then removed and replaced with two identical faceplates that have been pre-loaded outside the machine with 120 steel dowel blanks whilst the machine has been running.
Stuart Wade, a director of the family-run subcontract machine shop commented, "Using two Chick Qwik-Loks with dual station jaws is not only an effective solution but an economical one as well. We were shocked at the £20,000 price of a zero-point clamping system we looked at early on, whereas the 1st MTA package cost only £8,000."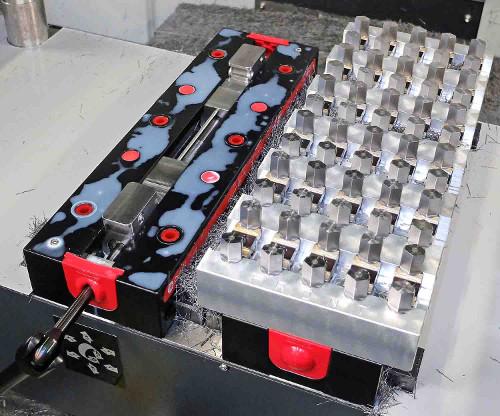 60 steel dowels are held using specially machined Mitee-Bite clamps on a faceplate held by a Chick Qwik-Lok at Empire Manufacturing. The faceplate to the left has been removed to show the base and slide assembly, which is sealed against ingress of swarf.
Clamping for high-repeatability honing
It is not just for milling and drilling that rotational parts have to be held securely. Oleo International, which makes hydraulic buffers for the rail industry as well as for lifts and industrial use, has fitted Kitagawa manual scroll chucks from 1st MTA to its honing machines to retain cylindrical components securely, accurately and without damage.
Stan Ross, senior production engineer at Oleo's Coventry factory said, "Manual chucks are ideal for workholding on our honing machines but they have to be of good quality, as we need a high degree of repeatability and minimal distortion when clamping our cylinders and plungers.
"In addition, the chucks need to withstand a lot of wear and tear from honing paste and fine metal particles, especially on vertical honing machines, so durability is important to ensure long service life."
With these prerequisites in mind, Mr Ross selected Japanese-made Kitagawa 3-jaw, self-centring scroll chucks for use on all four of Oleo's honing machines from Delapena and Sunnen. Two-piece jaws are used, comprising a steel base to which a suite of 10 sets of pre-machined aluminium jaws are secured using cross tenon mounting and two bolts per jaw. The base is secured using a new cross guide system that minimises run-out.
Mr Ross commented, "We have dealt with the Kitagawa agent, 1st MTA, for a decade and always find them professional in their approach and technically knowledgeable. They recommend the best product for an application, even though it might cost less than others in their range.
"Another thing we liked was their willingness to fly in a chuck from Japan at no extra cost when we bought the last two, as they only had one of the model we wanted in stock."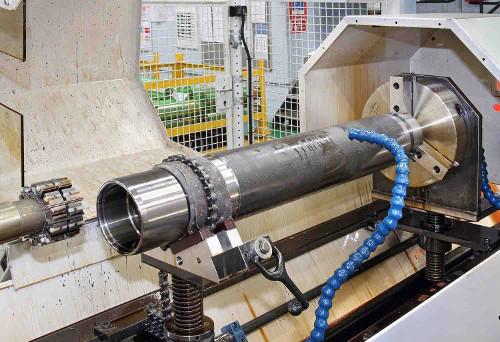 An Oleo industrial buffer cylinder secured for horizontal honing on a Sunnen CNC machine by a Kitagawa JN12T manual scroll chuck.
Thin-wall components held for vertical turning
Another application where distortion of round parts must be avoided during clamping is when turning thin-wall aero engine rings. Here again, 1st MTA has a highly productive solution, as Aston, Birmingham-based precision engineering company Columbia Precision discovered.
The arrival of a Mazak vertical turning lathe (VTL) allowed the subcontractor to take on extra work turning larger aero engine rings from Jethete, aircraft grade stainless steel or nickel-based alloy castings or forgings. However, the machine's three-jaw chuck was unable to hold the thin-wall components without introducing distortion, out-of-roundness and eccentricity.
1st MTA's applications engineers proposed an Abbott master plate, pre-drilled and keyed to accommodate three standard, curved segments that spread the clamping pressure evenly around the circumference of the rings, either by holding on the inside or the outside. The US-manufactured workholding system is able to maintain the required circularity and dimensional accuracy of the components, while the cost was well under half that of a multi-jaw compensating chuck offered by another supplier.
Different sets of three segments can be machined to accommodate a variety of component sizes and types. A set can be removed and three more segments bolted onto the plate for the next production run in less than half an hour, enabling high productivity to be maintained around the clock.
Colin Peach, the engineer in charge of the machine at Columbia concluded, "By clamping rings at 125 psi using the Abbott master plate system, we are easily able to hold the required dimensional tolerance of ± 0.1 mm and 0.15 mm roundness, which would be impossible using the VTL's standard 3-jaw chuck."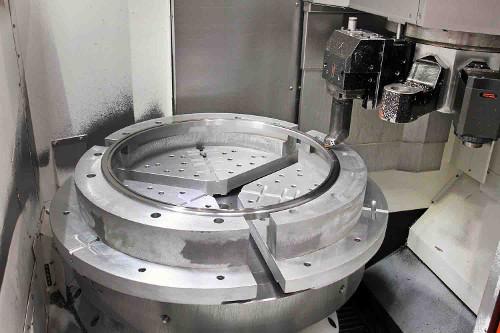 The Abbott master plate system with three curved segments set up over the 3-jaw chuck of the Mazak VTL at Columbia Precision.