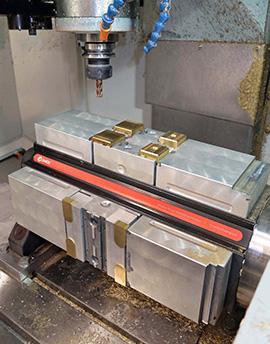 One of the repercussions of Covid-19 has been a widespread discussion about bringing more manufacturing back to the UK, and rightly so in the view of workholding and automation specialist 1st Machine Tool Accessories (www.1mta.com). But is reshoring large amounts of production realistic in the short term, or is industry unprepared to cope with the higher demand and respond to the need to make parts more cost-effectively?
It is generally accepted that the manufacturing sector in the UK is behind its competitors in Europe, the US and especially the Far East when it comes to the adoption of automation in its factories. There is no lack of knowledge, just equipment on the shop floor, although there has been significant effort in recent years to redress the situation and raise competitiveness.
1st MTA is a keen advocate of automating machine tools to achieve savings and regards some level of unattended operation to be crucial for cost-efficient production and generating a healthy profit. However, the company stresses that big investment in expensive robotics is not a prerequisite for success or justifiable in smaller factories. Correct equipment for an application could be as simple as employing hydraulic rather than manual clamping to actuate jaw closure; using a rotary table to add a fourth and perhaps a fifth CNC axis to a 3-axis machining centre so that parts can be made in fewer operations or maybe in one hit; or choosing a full-length bar magazine rather than a short barfeed to automate a lathe.
Whether producing prismatic or rotational components, return on investment (ROI) in such relatively inexpensive automation equipment can be surprisingly rapid, although the operative word is relatively. It is important for a manufacturer to research the market carefully, quiz potential suppliers and avoid rushing into choosing a lower initial investment for a shorter ROI. If it falls short in achieving what is expected, it can actually result in a longer payback period. Then the user is stuck with the worst of both worlds – a less effective automation solution and inferior cash flow.
Once the decision to invest has been made, is it best to opt for the latest top-level technology or upgrade existing production plant? The former would be the ideal, as it offers not only the most productive and accurate machine tool technology but also invaluable support from the manufacturer and accessories suppliers. Although it requires higher initial investment, it can often lead to a quicker ROI.
For a lower investment, upgrading existing machines can be achieved to suit particular applications and industry sectors, using equipment and accessories readily available on the market. Among the most useful items are those that provide automated and improved workholding, additional CNC axes for deploying the cutting tool more efficiently, and additional production capacity through extended periods of autonomous running.
Efficient workholding
Correct workholding is essential across all machine tools. A manufacturer may have the best machine in the world, but if the component cannot be held securely, it is impossible to produce it efficiently and accurately, or even at all.
In recent years the trend has been to try to machine a component in one hit, i.e. without removing it from its fixture and reclamping it on the same or another machine tool. The 'done in one' philosophy cuts fixturing cost and loading time, so the machine runs for longer and metalcutting accuracy is enhanced by avoiding tolerance build-up. The result is more good parts in a shorter time and hence higher profitability, but it can only happen if efficient workholding practices are employed.
On lathes, for example, there may simply be a need for better component accuracy and repeatability throughout a batch to reduce scrap levels. This can be achieved by replacing or upgrading a power chuck or installing a collet chuck. It could also mean using special jaws on a standard chuck or utilising one with non-standard features such as a long jaw stroke, or employing face, pull-down or internal clamping.
It could be that a quick-change chuck is more suitable, as it reduces set-up times, or consideration could be given to a special workholding chuck dedicated to a family of parts that frequently repeat or are needed in large batch sizes. The range of chucks manufactured by the Japanese company Kitagawa covers all of these requirements.
For workholding on vertical- or horizontal-spindle machining centres, quick-change systems are available that can easily be adapted from a standard unit to one that is bespoke to the component being produced. Such systems can be single or multiple and fitted on a rotating axis, allowing multiple sides of one or more components to be accessed by the cutter. Parts can be secured on zero-point plates such as those made in the Czech Republic by V-Tech. They enable components to be loaded quickly under the spindle, or pre-loaded outside the machine, either way minimising spindle waiting time and maximising productivity.
Multiple clamping arrangements offer even longer machine running times and less loading times. They also provide better repeatability of component set-up from one batch to the next. For this type of application, Chick workholding from the US offers highly productive solutions. For use on dedicated 5-axis machining centres, vices from the German company Best are recommended, as they grip on very little material to expose the maximum surface area for milling and drilling in a single cycle.
If an application calls for a magnetic workholding solution, systems are available in various sizes from another Czech producer Walmag, from small, single magnetic plates to large plates covering a complete machine bed. They are equally suitable for securing parts on grinding machines and may also be used for applications other than on machine tools.
If automated clamping is required, one option includes a hydraulically actuated, low-profile workholding solution from Finnish manufacturer OK-VISE. For example, Multi-Rail clamps work on the principle that as they are tightened they expand, simultaneously pressing the workpieces against a guide to prevent any possibility of play. Small in size yet exerting a force up to 150 kN, the clamps are designed to fit between workpieces and take little space on the fastening base, be it a T-slot table, base plate, serrated rail or other platform.
Another system that lends itself to robotic loading and unloading is based on the Kitagawa Swift Klamp, which relies on the HSK toolholding interface for securing components. It employs a deep clamping head to accommodate low pressure (35 bar) hydraulics, and a mounting plate with a dedicated adapter to suit a 3-, 4- or 5-axis vertical-spindle or horizontal-spindle machining centre. Pneumatic detection of correct seating of the head ensures accurate machining and elimination of scrap, while air blow from the underside prevents swarf from entering the mechanism during component exchange.
A potential user can have a package configured by 1st MTA that may include a workpiece stocker, a 6-axis industrial robot with gripper, the Swift Klamp workholding system with head, multiple work holders, control unit and pump, and an engineered interface to the machine tool comprising electrical control circuitry and plumbing of the hydraulic and pneumatic channels through the table as well as a tombstone if necessary.
Rotary tables add extra CNC axes
As already stated, manufacturers find that to produce parts cost-effectively, single-hit machining is essential. Without it, quoting for work is often a waste of time, as it is impossible to compete on price if an operator has to reload a part for another operation, not to mention the cost of a second fixture and the potential for scrap due to loss of component accuracy.
An additional rotary axis is versatile and can be used horizontally or vertically to provide either a rotational motion or a tilt axis for positioning a part. It can be controlled either by the machine tool software or by a simple, separate control. The latter is more expedient if a factory has several different makes of CNC system in operation on the shop floor, as the table can be moved from one machine to another easily, rather than using it on one machine only.
Options include compound tables to turn a 3-axis VMC into a 5-axis machine, elevated clamping tables, small footprint and high speed tables, and large through-bore models as well as multi-spindle rotary and tilting tables with accessories for automatic loading. Kitagawa offers all of these options.
The latest range to be introduced by the Japanese firm, the MK-series, currently has two models that add a fourth CNC axis. The larger MK250 has 1,000 Nm, pneumatically actuated clamping and can support a component or tooling column to a maximum load of 250 kg horizontally. If a Kitagawa tail spindle with integral clamp is added for securing the load between centres, clamping torque increases to 1,600 Nm. Alternatively, a component or column weighing up to 125 kg can be supported in the vertical orientation.
The table design minimises accumulation of chips around the base, reducing cleaning time and ensuring the absence of interference to the workholding arrangement – an important consideration in automated production cells. Compact, built-in, 7 MPa rotary joints may be selected from 4-, 5- and (6+1)-port types, the latter having a 12.5 mm diameter, multi-purpose hole through the centre for additional hydraulic or pneumatic services to actuate workholding. The hole can also be used as a duct for cables feeding signals back from fixture sensors confirming correct workpiece seating, enabling the design of the workholding configuration to be improved and its capabilities enhanced.
Alternatively, a high pressure 25 MPa, 4-port or 6-port rotary joint can be provided instead of the standard 7 MPa variety, allowing a further reduction in fixtures sizes as well as improved clamping speeds.
Short barfeeds cannot compete with full-length magazines
A fixed-head turning or turn-mill centre that is already producing parts may be automated with a short barfeed, but it may be worth considering replacing it with a full-length bar magazine, as is routinely fitted to a sliding-head lathe. 1st MTA's contention is that repeatedly feeding short bar into a lathe constantly costs the user money, whereas a more productive, full-length alternative constantly saves money. A quick calculation is sufficient to confirm this.
The ROI on full-length barfeed models is all too often overlooked and it is a costly mistake, as substantial savings could be made over a short period of time by feeding long stock. Lathes equipped with such magazines, which may be fitted with a rack or bundle loader for holding multiple bars, keep production running for longer periods unattended during the day, overnight and at weekends, without having to stop the machine to change the stock. Profitability is raised by keeping the spindle turning for longer, helping to amortise the cost of the long bar magazine very quickly. At that point, a user starts enjoying the barfeed upgrade for free, a benefit that continues for the life of the equipment.
As the number of bar remnants is fewer, say one instead of two or three, there is considerably less wasted material. The extra lengths of what would otherwise be scrap stock created by a short barfeed are converted into perfectly good components that can be sold, so waste material is turned into profit. That is especially the case when expensive material is being turned, but significant savings accrue over time running to several thousands of pounds per year even when processing low-cost steels. Add to this the additional expense of buying pre-cut material lengths, or the costs associated with a saw and an operator to cut the material on-site, and the long barfeed makes perfect financial sense.
Barfeeds manufactured by Iemca in Italy are fast to set up when changing the bar size, as they accept a wide range of stock diameters without having to fit another guide channel. For example, the latest Maestro 80 model accepts bar from 10 to 80 mm and offers changeover in 30 seconds, minimising loss of production.
Non-round material – 10 mm to 65 mm hexagonal or 10 mm to 50 mm square – can also be handled with a quick change of the bushes. Material length options are from 1,000 mm up to 3,200 mm, 3,700 mm or 4,200 mm, subject to a maximum single bar weight of 180 kg. With over 100,000 bar magazine installations worldwide, a quarter of which are for material over 65 mm diameter, Iemca has over 45 years' experience of feeding large as well as small diameter bar.
1st Machine Tool Accessories
All of the above workholding and automation products are provided to manufacturers in Britain and Ireland by Salisbury-based 1st MTA, mostly under sole agency agreements. Either off-the-shelf equipment is supplied or bespoke solutions are found to address difficult applications. The company operates a consultancy service to identify the optimum solution for securing prismatically shaped and round components during production.
Top photograph caption:
A Chick indexing sub-system provides an additional CNC axis for presenting more parts to the spindle.