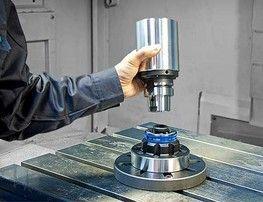 Under its sole agency agreement with the Japanese manufacturer, Kitagawa, Salisbury-based 1st Machine Tool Accessories (www.1mta.com) is offering the new Swift Klamp to machinists in the UK and Ireland. The rigid workholding product uses proven HSK tool interface technology to provide a secure, low interference, quick-change clamping arrangement that resists bending forces generated during metalcutting operations.
Designed for 5-axis machining applications but equally suited to use on 3- and 4-axis machines, the system consists of three parts – clamping head, work holder and workpiece. The head is supplied either as a manually or automatically operated HSK clamp, while the work holder comprises an HSK interface at the base and multiple options at the top for holding the workpiece, including flange clamps and side clamps.
The most efficient clamping system, however, is the dovetail interface. Its small clamping surface area allows enhanced tool access and its low profile maximises the machine tool's Z-axis travel. Workpieces up to 200 mm square or diameter can be accommodated.
The final element is the workpiece to be machined, which in the case of the dovetail holder requires a slot to be pre-milled into the raw billet to match the holder profile. A solid carbide cutter is available specifically for this purpose. Additionally, pre-machined dovetailed EN3B (070M20) steel and HE30 (6082) aluminium blanks can be supplied in various sizes for immediate use.
The manual clamping head has a versatile flange that suits multiple mounting options. Available in HSK-A40, HSK-A63 and HSK-A100 sizes, it may be set up off-line and the work holder can be exchanged within 10 seconds, minimising machine downtime.
For automated manufacturing processes, a hydraulically-actuated clamping head is available in the same HSK sizes, with seating detection and air-blow. The work holders have a standard profile to enable them to be handled by any general-purpose robot arm.
An explanatory video showing the range of Swift Clamp products available through 1st MTA and the methods of operation may be viewed at:
https://www.youtube.com/watch?v=D7WwtE4QWn4
oooOooo
Top photograph:
1.       A workpiece in a Swift Klamp holder being inserted manually into a mating HSK clamping head mounted on the table of a machining centre.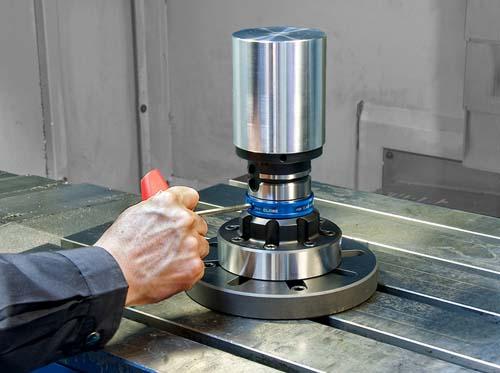 2.       Exchanging the work holder takes less than 10 seconds.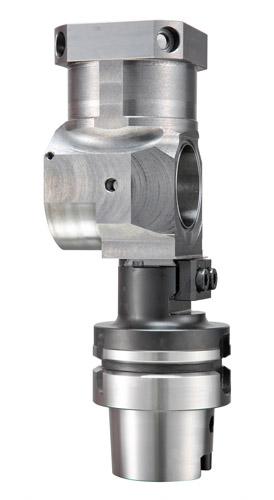 3.       If a dovetail slot is milled into the component, a matching work holder can be used to provide low profile clamping and improve tool access.