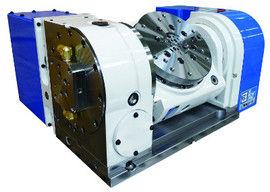 The use of rotary tables allows the benefits of one-hit machining to be exploited to the full. Through this process, most – if not all – metal cutting requirements are undertaken by a single machining centre, irrespective of component complexity. The advantages of such a technique are clear. They include: only one machine set-up; one fixturing set-up; cost and time savings associated with reduced parts handling; and the elimination of tolerance errors accumulated as workpieces are moved from machine to machine.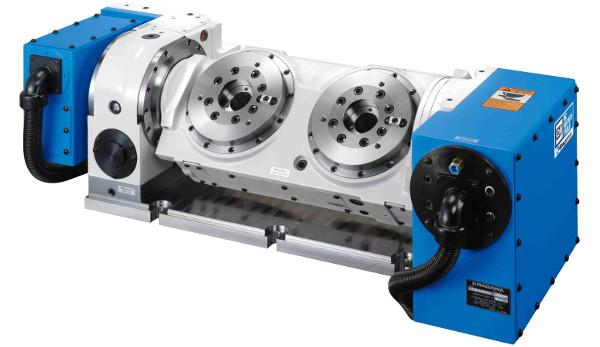 Kitagawa's TT and TTS tilting rotary indexers meet the needs of more complex workpiece and machining configurations, making it easy to add 4th and 5th axes capabilities to standard machining centres.
Of particular note is the TW2180, a high performance twin spindle tilting table. With two spindles, two parts can be machined simultaneously, cutting down on setup and machining times. The TW2180 has high clamping torque, and an optional built-in rotary joint for simple and secure jig piping. Furthermore, the TW2180 has the smallest width in its class at just 999mm, ensuring this functionality is available without intruding into the machining envelope.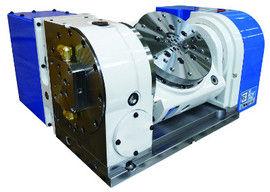 The newest addition to Kitagawa's range of 5-Axis Rotary Tables is the TT200, being brought to market as a direct replacement of the TT182. With the same centre height and faceplate height at the horizontal position as the TT182, the TT200 has the highest clamping force in class, with an increase of 25-30% over the TT182.
If you would like more information about the TT200 or any Kitagawa Rotary Tables, you can arrange a FREE visit from one of our technical representatives.