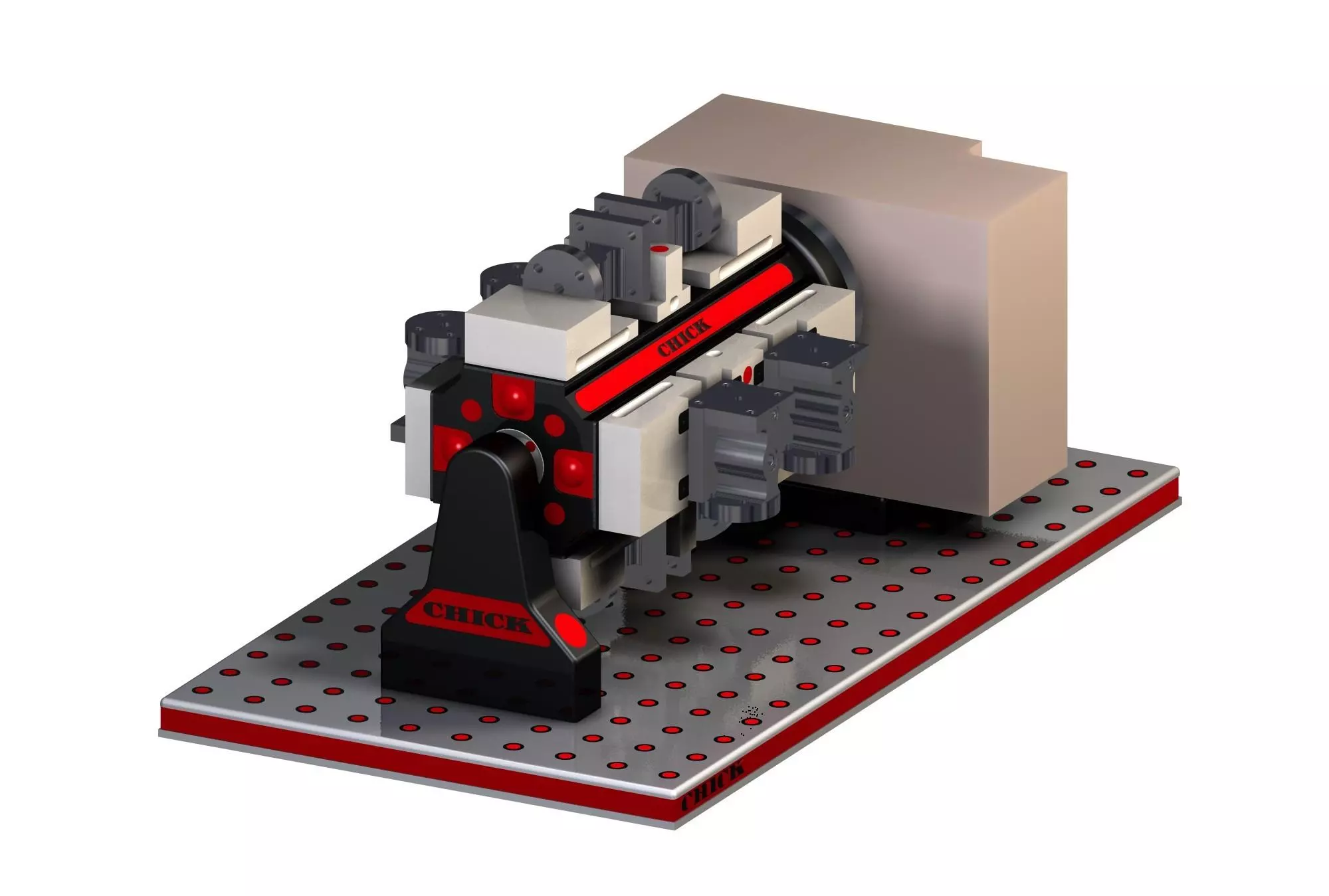 Do you look for workholding solutions that work harder and faster with less effort? 

Does reducing downtime and maximising productivity remain at the forefront of your priorities?
The Chick System 5 consists of several cutting-edge workholding features, each designed to provide the most versatile and efficient workholding solution possible. 
Whether you're using workholding personally or you're a manager trying to reduce downtime, the System 5 boasts powerful technologies that are both faster – and easier to use. 
Here, we'll take time to explore these flexible and versatile technologies
What products make up System 5?
Innovative dual-station workholding.
Four, six, eight and twelve-sided, compact, dual-station workholding for horizontal and vertical machines.
Custom-made foundations with a standard grid pattern, providing consistent, faster setups.
How Chick achieve flexibility and versatility
The QwikChange
QwikChange is Chick's rapid jaw system. 
These movable jaws snap on and off in a matter of seconds, not minutes, meaning CNC milling jobs can be set up faster. Compared to traditional bolt-on jaws, the QwikChange system boasts incredible flexibility. 
The jaws provided by Chick can be customised to fit specific components; they're also suitable for multiple operations. For extra biting power, Chick Grippers can be installed simply and easily.
QwikChange is not only fast and customisable but also suitable for a vast variety of part sizes, increasing versatility.   
Chick offers a range of jaw sizes and configurations (high, wide, oversized and single station); these remove the need to change fixtures when setting up a new job with a lesser or greater holding capacity.
Top 5 benefits for engineers:
Fast part changes with reversible and moveable snap-off jaws

Maximum repeatability

Eliminate jaw lift

Easily customised soft jaws

Fully integrated with Chick ecosystem
Faceplates
Chick workholding systems can also be converted to a faceplate setup, allowing machinists to design their own fixture capable of holding many small or oddly shaped parts. 
Combined with the QwikChange system, these faceplates essentially become a pallet changer. Chick's accessories offer the perfect blank canvas for your workholding, unlocking previously hidden efficiencies.
MultiLok and Indexer Sub System
For horizontal and vertical machining centres, the MultiLok and additional Indexer Sub System (ISS) represent the pinnacle of the System 5's versatility and flexibility. 
The MultiLok
Chick's MultiLok takes the flexibility of the QwikChange system and multiplies it for horizontal CNC machines. 
Available in four, six, eight and twelve-sided configurations, the Multi-Lok combines the benefits of tombstone fixturing with the speed and versatility of the QwikChange system. 
The MultiLok's unmatched flexibility means you can take full advantage of your Horizontal Machining Centre: 
Three-part sides per station with a single clamp

Decreased cycle and setup times

Maximised part accuracy

Unmatched productivity

Boosted profits
Indexer Sub System
The ISS is an extension of the MultiLok that provides the benefits of HMCs to those using Vertical Machining Centres. 
Compatible with any rotary table, the ISS grants a 3-sided access to your component, and means you can work on multiple components simultaneously. 
Key benefits:
Present multiple workpieces and multiple part sides to the spindle, maximising productivity

Adaptable and versatile

Reduced labour requirements, increased walk-away time
The bottom line
Chick's goal with the System 5 was to provide an uncomplicated, totally customisable and efficient workholding solution for any machine. 
The flexibility and versatility of the System 5 is a product mainly of the patented QwikChange system. Profitability increases when more parts can be machined with less setup time and downtime. 
Still have questions?
Speak to one of our experts; we'd be happy to help.