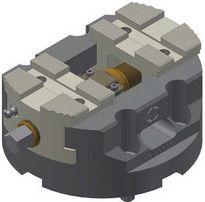 New Vices Are Ideal For 5-Axis Machining
The range of workholding products offered by 1st Machine Tool Accessories has been significantly expanded following a new agency agreement with BEST GmbH, Filderstadt, Germany.
The company is a leading manufacturer of low-profile, centric (self-centering) vices that are particularly suited to clamping components undergoing multi-axis metalcutting applications on machining centres.
There are similar products on the market, but 1st MTA says that the BEST range combines top quality and high clamping forces up to 100 kN with very competitive prices.
Other qualities of the vices are an ability to clamp on only 3 mm of material; ± 0.01 mm centring accuracy with five microns repeatability of centricity for manual and pneumatic vices, and one micron repeatability for hydraulic types.
Vices range in length from 115 mm to 500 mm and have up to 50 mm stroke. Face plates and adapters allow them to be fitted to any machine table, pallet or rotary table. Master base jaw design ensures modularity across the range.
Jaw varieties including knife-edge options are manufactured from a range of materials from aluminium through machinable steel to hardened and ground steel to suit the application. Quick-change jaws are an option to the traditional tongue and groove.
Automation Raises Lathe Output
On the shop floor at Burnley subcontractor, BCW Engineering, an Iemca gantry robot loading system from 1st MTA has been retrofitted to a twin-spindle Biglia CNC chucking lathe supplied in 2008 by Whitehouse Machine Tools. As a result, engine component productivity has increased by up to 50 per cent compared with when billets were loaded and unloaded manually; and labour costs have been reduced significantly.
Based on these factors, BCW's operations director, Trevor Cassie, calculates that the Iemca billet loader paid for itself within 10 months.
The significant financial savings prompted the subcontractor to invest in a second, identical automated production cell, which was installed in 2009. This time, the Biglia B565YS mill-turn centre and Iemca Automata 2.5 robot loader were supplied as a turnkey facility. A third cell is planned for 2011, which will mimic the original in that 1st MTA will supply the billet loader and retrofit it to a Biglia chucker already in use at BCW.
Trevor Cassie concluded by putting the project into perspective. "Capital investment in bar automatics is reasonable for lathes capable of turning up to 50 mm diameter stock, but machines of larger bar capacity tend to be very expensive.
"Automating chuckers using robotic gantry loading is the most economical way of achieving similar levels of productivity for larger turned parts and we have been delighted with how well it has worked for us."