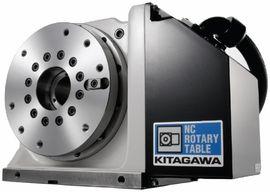 TUX321 and GT200 provide rigid workpiece location and high indexing accuracy
The Kitagawa TUX321 and GT200 are the latest additions to the comprehensive range of NC rotary tables from workholding and machining equipment specialist, 1st Machine Tool Accessories.
Incorporating a top mounted motor assembly, the TUX321 occupies an extremely small work table footprint, making it an ideal choice for use with horizontal machining centres. It features a pneumatic / hydraulic design that delivers a maximum clamping torque of 2800Nm and utilises Kitagawa's high performance roller bearing technology to ensure exceptional rigidity and durability. As a result, the TUX321 consistently achieves an indexing accuracy of 15 seconds of arc and positional repeatability of just 4 seconds of arc, even under the most demanding machining conditions.
With a high rotational speed of 33.3 rev/min, the new model is particularly suitable for large automotive and aerospace industry parts. In addition, its 320 mm diameter table incorporates a 110 mm diameter through hole – the largest in its class – to accommodate extended profile workpieces or bar machining applications.
Kitagawa's new GT200 rotary table is also a through hole unit capable of withstanding high cutting forces. It incorporates a 200 mm diameter table, provides spindle rotations of up to 41.6 rev/min for high speed indexing, and features a rigid body designed to minimise deflection under heavy loads. The pneumatically-clamped GT200 incorporates integral pressure monitoring switches and Kitagawa's multi-plate disc brake technology to consistently achieve clamping torques of up to 820 Nm. Furthermore, the GT200's double-lead worm gear drive ensures simple backlash adjustment, enabling it to maintain an absolute positional accuracy of 20 seconds of arc, with a repeatability of 4 seconds of arc.
Kitagawa's extensive range of 4 and 5 axis NC rotary tables is complemented by a series of special purpose multi table units – including twin spindle, tilting axis models that allow simultaneous machining of two workpieces in a single set up. In addition, the company will develop, manufacture and support workholding solutions tailored to customers' individual application requirements.
Kitagawa rotary tables interface directly with all popular machine tool controllers, or can be supplied with the company's optional Mac Mini, MMiH or MMiH2 M-code activated control units.
The full range of Kitagawa Rotary Tables are avaialble from 1st MTA. If you have any questions or queries about any of the products mentioned in this article, please don't hesitate to contact us on 0800 783 0510 or enquiries@1mta.com.