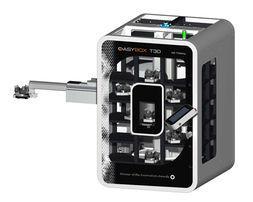 1st Machine Tool Accessories has introduced a range of workpiece handling cells that allow components to be clamped manually onto pallets, automatically loaded into store and subsequently retrieved for robotic transfer into and out of 3-, 4- and 5-axis machining centres. The equipment is ideal for long periods of unattended and lights-out running and hence for extracting maximum benefit from investment in machine tools.
The cells are manufactured by French company Engineering Data, located in Fondettes, near Tours, which has appointed 1st MTA as sole sales and service agent for the UK and Ireland. The modular pallet handling systems are said to increase production output from non-pallet-change machining centres by up to 50 per cent.
A representative model, EasyBox T30, was demonstrated on the 1st MTA stand at MACH 2018. It is a compact system with a footprint of just two square metres that can be configured to feed a machine from the left, right or front. Two versions are available for storing 42 or 64 pallets. They are equipped with a 3-axis robot capable of handling components up to 200 x 200 x 180 mm and a maximum load of 30 kg including workpiece, fixture and pallet.
Half a day's training is all that is needed for an operator to be conversant with the system, which is designed to automate small to medium batch production. The single load / unload station is positioned at an ergonomic height at the front of the store for convenient workpiece clamping and unclamping. An adjacent touch-screen panel for operating the robot is easily interfaced with all major types of machine tool control including Heidenhain, Siemens, Fanuc and Mazatrol.
A larger EasyBox T100 in a compact version for handling 100 kg pallets is also available. Additionally offered are a rail-mounted linear version, L-range, for feeding up to six machining centres and a 350-degree R-range rotary version for feeding one or two machining centres. EasyClamp self-centring vices are also available.
oooOooo
Top photograph caption: The Engineering Data EasyBox T30 workpiece handling cell from 1st MTA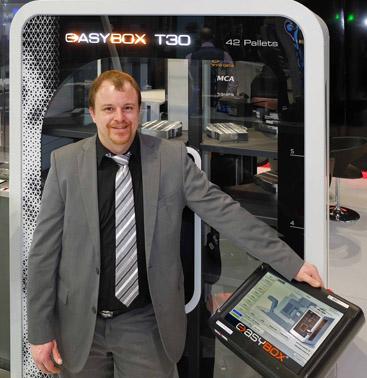 Engineering Data development engineer Mathieu Jurion with the
EasyBox T30 on the 1st MTA stand at MACH 2018.