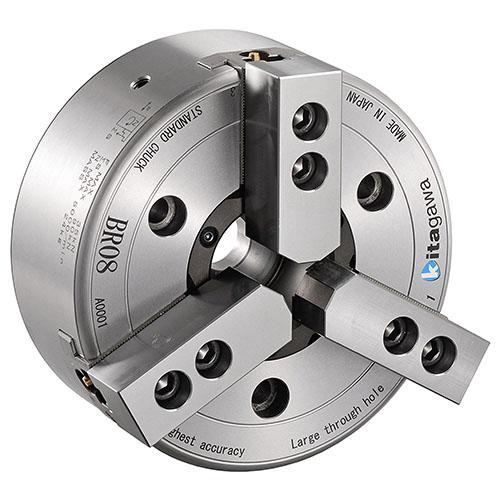 Designed to reduce set-up times on lathes, the new BR-series of 3-jaw chucks from Japanese firm Kitagawa are capable of a gripping accuracy of 0.01 mm TIR (total indicator reading) or less when using optional T-Nuts Plus jaws. Repeatability of jaw exchange is within the same tolerance, even on the largest chuck. They are manufactured in 6-, 8-, 10- and 12-inch versions and are available in the UK and Ireland through sole agent 1st Machine Tool Accessories (www.1mta.com/product/br-series/).
BR chucks are now Kitagawa's standard offering and are interchangeable with its B-series and the large through-hole BB-series, which are both superseded. Their TIR could only be guaranteed within 0.02 mm.
Due to a new base jaw design and lower jaw lift, gripping forces at the maximum rotational speed of the chucks have been increased by 10 to 15 per cent to enable better metal removal rates. High spindle speeds have been maintained throughout the range to enhance the surface finish of turned components.
On twin-spindle chuckers, which are becoming ever more prevalent in turning shops, the better rotational accuracy of the workpiece allows more precise synchronous transfer from the main to the counter spindle for second-operation machining. Gripping force is up to 153 kN for the 12-inch chuck while maximum rotational speed, attainable on the 6-inch model, is 6,000 rpm.
Every chuck includes a QR code on the side to allow data on the product to be downloaded. A video summarising the advantages of Kitagawa's new BR-series is available at www.youtube.com/watch?v=MlV_cn4c6tA