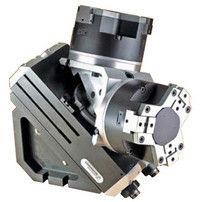 A range of clamping and manipulation products from Tecnomors, Italy, has been added to the rapidly expanding portfolio of workholding equipment available from 1st MTA.
Characterised by their high accuracy and repeatability, Tecnomors self-centring pneumatic and hydraulic vices, manual chucks and automatic indexing chucks are ideal for precision, multi-axis machining operations.
The products are complemented by the company's automation grippers, linear motion units, rotary actuators, pressure intensifiers and a series of robot accessories, including distributor couplings, rotary units and locking units.
All equipment is supported by ancillaries geared to the most demanding production applications, enabling workpieces from just a few grams to hundreds of kilos to be clamped and manipulated with ease.
By drawing on a pedigree of precision design and manufacture that stretches back more than 40 years, Tecnomors has established an enviable reputation for supplying a wide variety of productivity and quality-enhancing equipment to Europe's machine tool, automation and metal working sectors.
Catherine Kelly, 1st MTA's general manager, commented, "Compact and elegant design, precision manufacture and dependable performance over an extended service life are all at the heart of Tecnomors products.
"They complement well our existing chucks, vices and indexing tables from well-known brands such as Kitagawa, Chick, Abbott, Best, Bison, OK-Vise and Leave."
The full range of Tecnomors Indexing Chucks are available from 1st MTA. If you have any questions or queries about the products mentioned in this article, please don't hesitate to contact us on 0800 783 0510 or enquiries@1mta.com.