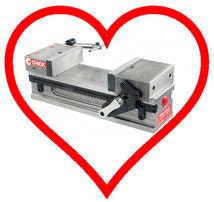 This Valentine's Day, show your CNC machine you love it with Chick Workholding's One-Lok CNC Vise. Developed from scratch to meet the speed, precision, and flexibility demanded by modern CNC machining operations, the Chick One-Lok is the perfect Valentine's Gift.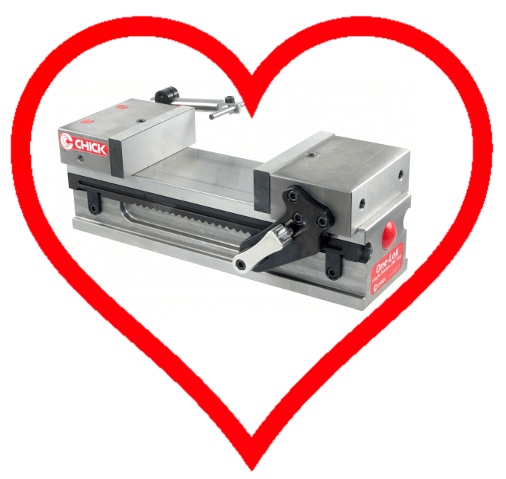 The Chick One-Lok utilizes innovative technology such as the "QwikSlide" that enables rapid set-ups when changing to a new job of a different size. Instead of requiring multiple turns of the operation handle, the fast-acting adjustment mechanism allows the moveable jaw of the vice to be unlocked and slid quickly to approximately the position it is required, after which a few turns of the handle secure the part, saving you time on every part change-over.
Resistant to vibration under machining loads, resulting in higher accuracy, increased output, and extended tool life, the Chick One-Lok also has a "squeeze" clamping configuration that applies an equal and opposite internal force to the fixed jaw as the moving jaw closes thus providing virtually deflection-free component clamping.
See what others had to say
The Chick One-Lok helped Ipswich-based Kocurek Excavators adopt more aggressive machining strategies. Shop supervisor Ben Woollard said:
"Since using One-Lok, we've never had a component work loose, this has given us the confidence to push up cutting speeds and feeds on several jobs, and trim cycle times as a result."
If you don't like the idea of a blind date with the One-Lok, please watch this promotional video highlighting the One-Lok's many assets:
If you would like more information about the Chick One-Lok please contact us on 01725 512517 or enquiries@1mta.com to speak to one of our technical engineers or arrange a FREE on-site demonstration from one of our technical representatives. We look forward to hearing from you.