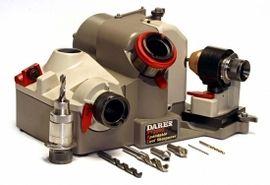 The XT3000 Xpandable Tool Sharpener – part of the extensive range of Darex drill and mill regrinding systems available from leading workholding and productivity equipment specialist 1st Machine Tool Accessoroes – provides machine shop users with wide ranging capabilities and fast equipment payback.
Designed as an affordable drill sharpener that will grow with customers' requirements, the XT3000 base unit quickly and accurately regrinds 3-21 mm (1/8 – 13/16 inch) diameter standard or split point tools at any angle between 118 and 150 degrees. It also enables each drill's tip profile to be controlled precisely, including the required relief angle and split point configuration.
The unit meets or exceeds international aerospace standards for controlling key geometry variation – ensuring precise drill performance. It also incorporates roller bearings for consistent accuracy over an extended service life and is supplied with two stainless steel chucks as standard. The XT3000 is equipped with long-lasting, super abrasive CBN wheels for sharpening high speed steel and cobalt drills, or can be supplied with diamond wheels for carbide tooling. Both wheel types are zero-maintenance and will never require dressing throughout their life.
The base unit's capabilities are extended through a series of easily fitted optional modules. These include a large capacity unit for drills up to 30 mm diameter (1.182 inch) and a countersink module for regrinding Weldon type or single flute countersink tools.
A dedicated step drill unit sharpens tools with a maximum pilot diameter of 12.7 mm(½ in) and step sizes up to 21 mm (0.826 inch). Further modules are available for sheet metal point (Brad Point) and 90 degree point drills ranging from 3-21 mm (1/8 – 13/16 inch) diameter.
All adjustments and the attachment of modules to the XT3000 base unit are made by hand – without the need for any tools. The sharpener is powered by a rugged ¼ hp motor, which is rated for continuous use, and the system's enclosed design incorporates a vacuum extraction port for clean and safe operation.
The full range of Darex Drill Sharpeners including the XT3000 are availalbe from 1st MTA. If you have any questions or queries about the products mentioned in this article, please don't hesitate to contact us on 0800 783 0510 or enquiries@1mta.com.