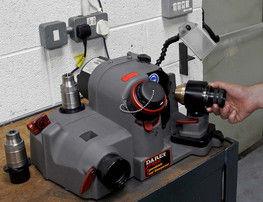 Manual drill grinder pays for itself in three months
An economical way to reduce consumable costs associated with deep-hole drilling of nickel alloys and stainless steels has been adopted by oil and gas advanced machining specialist, Evenort. Located in Dinnington, near Sheffield, the company is saving around £1,000 per month by not sending solid carbide twist drills away to be resharpened.
Instead, it is sharpening them in-house on the shop floor using a manually-operated, bench-top grinding machine that was only £3,000 to buy and costs practically nothing to run. It was supplied in December 2010 by 1st MTA, Salisbury, UK distributor for the US manufacturer, Darex.
Darren Roberts, works manager at Evenort, commented, "A few years ago, we were manufacturing complex oil and gas valves at the rate of 12 per month on Mazak and Hurco 5-axis machining centres, but a rise in global demand steadily increased that to 24 valves per day currently.
"We use 4 mm diameter Titex Xtreme carbide twist drill bits from Walter to produce holes up to 128 mm deep in our products. Early on, every time the drills became dull we sent them back to the manufacturer to be resharpened and recoated with titanium-aluminium-nitride. However, that was half the cost of a new drill, which is typically £200.
"Then as volumes started building, we used a local sharpening specialist, but it still cost us £12 for each regrind. This was expensive, as each drill completes as few as two or three holes in our tough materials before it needs resharpening.
"In other words, four to six pounds was added to the cost of producing each hole, added to which we needed to buy two sets of drills so one set could be in service while the other was being refurbished. So a more economical solution was needed."
He discovered what he describes as the ideal, 'happy medium' tool resharpening method by chance when a sales engineer from 1st MTA visited Dinnington to discuss supplying Kitagawa chucks.
During the meeting, the Darex drill sharpening machine range was discussed. After a batch of 12 Titex drills was resharpened successfully during on site trials, the decision was made to purchase a Darex XT3000.
Tools reground to a different profile
A pragmatic approach to drill resharpening was adopted by Mr Roberts. He discounted the purchase of a CNC tool grinder, which would have been too expensive, albeit the three facets on both lands at the tip of the two-flute, deephole drills could have been reproduced exactly using such a machine.
He decided instead to buy a much less costly, manual resharpener and change the profile of each land to a flat. There is little apparent difference in drilling performance compared with when the original geometry is used. This is the case even when the TiAlN coating is no longer present and, moreover, also holds true when the drill tip has been repeatedly sharpened past the 10 mm depth to which it was hardened during manufacture.
The only proviso is that feeds and speeds have to be reduced by about 15 per cent when the drill bits have flat rather than faceted lands on the tip. Typical cutting data are lowered to 2,300 rpm spindle speed and 88 mm/min infeed during the pecking cycle.
Simplicity of operation
Mr Roberts continued, "The other advantage of a manual drill sharpener over a CNC version is ease of use. Instead of having a dedicated person trained to grind the tools, all of our machine operators are able to sharpen their own twist drills on the Darex.
"It takes 15 minutes to learn how to use it and a drill is sharpened in a couple of minutes, so it is back in production quickly."
He describes the three-step process, which takes barely 0.5 mm off the length of the drill bit each time.
First, the tool is aligned coaxially in a holder, with the flutes in a known orientation and with a predetermined length of the drill protruding. Second, the tip lands are ground at another station by advancing the drill two or three times onto a diamond grinding wheel until it stops sparking. Third, the point angle (140 degrees in this case) is reground in two operations at a third station that accesses the same grinding wheel.
A feature of the Darex XT3000 is the large number of attachments available for resharpening different types of drill and other cutting tools up to 21 mm diameter. None is currently in use at Evenort, but could be purchased to meet future needs.
The full range of Darex Drill Sharpeners includiing the XT3000 are available from 1st MTA. If you have any questions or queries about the products mentioned in this article, please don't hesitate to contact us on 0800 783 0510 or enquiries@1mta.com.