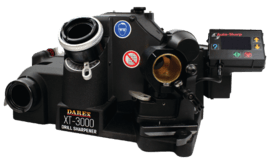 The Darex XT-3000 is an expandable tool sharpener that grows as your shop's needs grow. When you want the right point sharpened quickly and simply, the Darex XT-3000 is your best choice. It sharpens a wide variety of sizes and styles of drill, as well as a wide range or other tools, with ease, accuracy, and fool-proof precision. For the price of a couple hundred drills you can sharpen in-house for pennies a drill. The XT-3000's chuck/cam design makes it easy for everyone in your shop to be a sharpening expert. This is a rock solid, heavy-duty machine capable of sharpening all day, every day.
The base unit's capabilities are extended through a series of easily fitted optional modules. These include a large capacity unit for drills up to 30mm diameter, and a countersink module for regrinding Weldon type or single flute countersink tools. A dedicated step drill unit sharpens tools with a maximum pilot diameter of 12.7mm, and step sizes up to 21mm. Further modules are available for sheet metal point, and 90 degree point drills ranging from 3-21mm diameter.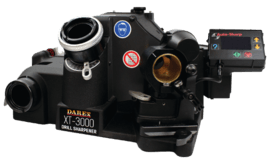 Automate Your Sharpening and Increase Productivity
The Darex XT-3000 Auto is an affordable way to bridge the gap between a manually operated machine and a fully automated CNC sharpening system, available as both an attachment to a standard XT-3000, and as its own unit. It provides fast payback and is easily integrated into your workflow, always delivering consistent results regardless of operator skill levels, so is ideal for multi-shift manufacturing operations and extended production runs. The XT-3000 Auto-Sharp does everything the XT-3000 does; but increases productivity by automatic sharpening – and at a very affordable price.
Amazing Savings
Sheffield-based Evenort saved around £1,000 per month by not sending solid carbide twist drills away to be resharpened. Works Manager Darren Roberts said:
"All of our machine operators are able to sharpen their own twist drills on the Darex. It takes 15 minutes to learn how to use it and a drill is sharpened in a couple of minutes, so it is back in production quickly."
See For Yourself
If you would like more information on the Darex XT-3000, contact us on 01725 512517 or enquiries@1mta.com to speak to one of our technical engineers or arrange a FREE on-site demonstration from one of our technical representatives. We look forward to hearing from you.