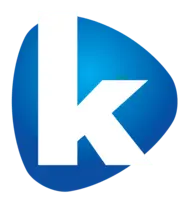 What are Rotary Tables?
Used in CNC machining and metalwork, rotary tables, also known as indexing tables, provide fine control of a workpiece in order to cut work at specific intervals around a fixed axis. Simply put, it needs to control and rotate the workpiece that is being machined. Since precision and accuracy are so important in the CNC machining process, picking the right machine that fits your needs and requirements is so important.
Kitagawa Rotary Tables feature proven technology with high clamping torque, accuracy, and rigidity. With a wide range of tables to choose from, there is a huge amount of flexibility on offer to meet whatever needs your machine shop may require. Choosing a Kitagawa rotary table is a quick, easy, and inexpensive way of increasing the capabilities of your machining centre, allowing you to increase accuracy, decrease cycle times, and machine more complex parts.
How to Choose a Rotary Table
So what are the different types of rotary tables and which is best for you? This greatly depends on what you need to get out of it and your budget. Fortunately, Kitagawa provides some of the best rotary tables on the market and supply a wide range of models for both big and small projects.
Kitagawa GT Series
Kitagawa's GT Series are 4-axis rotary tables that offer a higher clamping torque than standard, making them extremely capable of withstanding high cutting loads. Productivity is further enhanced by the tables' robust yet compact design, which allows maximum metal removal rates to be combined with high indexing accuracy and repeatability. The GT Series also features a rapid clamping action for reduced cycle times and maximum production throughput.
Kitagawa TT Series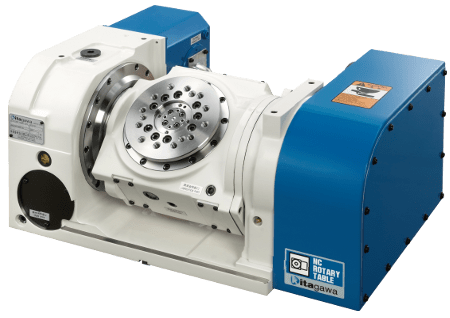 Kitagawa's TT Series is an example of 5-axis, ball drive rotary tables that feature tilting rotary indexers. These allow for more complex workpiece and machining configurations and make it easy to add 4th and 5th axes capabilities to standard machining centres.
All Kitagawa 5-axis rotary tables are available with a built-in rotary joint if required, simplifying the pipework that would be needed for using a power chuck. When combined with the range of rotary tables, Kitagawa's extensive range of power chucks allows for a huge amount of flexibility in your machining environment.
Kitigawa TW Series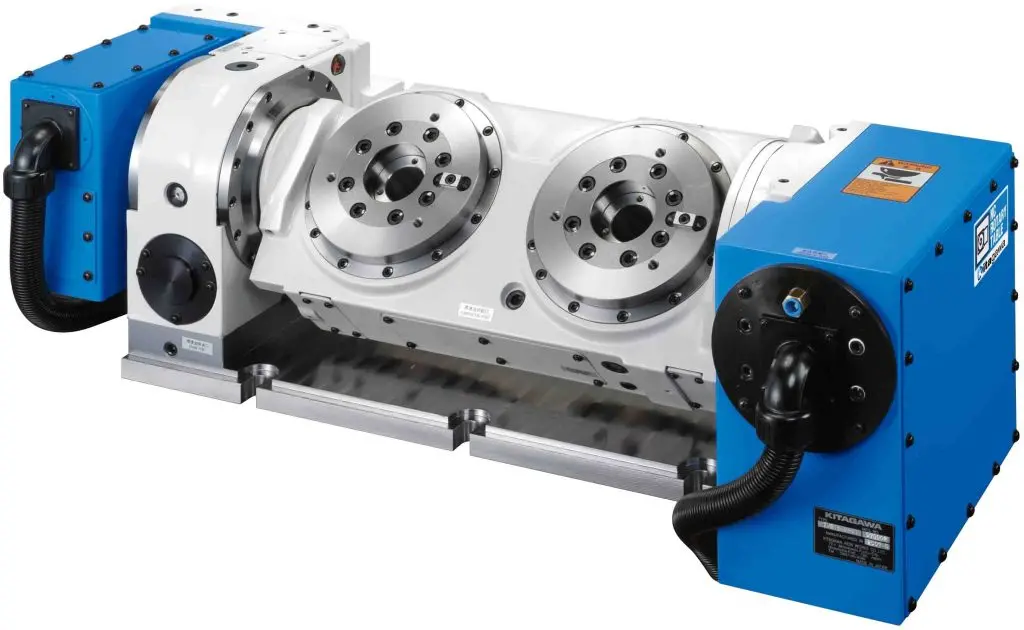 Perfect for large scale projects and businesses looking to improve their productivity and efficiency, the Kitagawa TW Series is the way to go. Unique in the fact that it allows you to work on multiple components with multiple operations simultaneously, it still possesses all the characteristics of any other 5-axis indexing table.
Despite the additional rotary joint, the footprint remains small, making it an ideal choice for use with compact, horizontal machining centres.
Contact Us Today!
If you would like more information about Kitagawa Rotary Tables, you can contact us on 01725 512517 or enquiries@1mta.com and arrange a FREE visit with one of our technical representatives. We look forward to hearing from you.