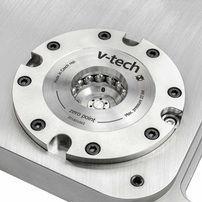 A highly repeatable zero-point clamping system in various configurations has been introduced to the UK and Irish markets by Salisbury-based 1st Machine Tool Accessories under a new agency agreement with the Czech manufacturer, V-Tech (www.1mta.com/news/new-zero-point-clamping-system/).
Intended primarily for highly accurate, safe clamping of workpieces on CNC machining centres, the pneumatic, quick-change system features powerful, 24 kN retraction of the clamping pin in each receiver and a positioning accuracy of better than 5 microns.
Mechanical vices, clamping chucks and bars, and special workholding fixtures can be accommodated in the receivers. Positioning slots allow precise 90-degree indexing.
The self-clamping mechanism, which uses high power springs to secure the workpiece and fixture, ensures that the force is still applied after the air has been disconnected. Pneumatic power is only required again for release.
The high clamping force of the receiver is made possible by the design of the pneumatic piston, the shape of which is optimised for even distribution of contact whilst maintaining compact dimensions.
The V-Tech zero-point system is able to drastically reduce set-up times compared with conventional workholding, greatly enhancing productivity. Clamping bases are available to hold one, two, four or six receivers, which are 135 mm in diameter but only 41 mm high, so little Z-axis travel is lost.
Top photograph caption:
A V-Tech zero-point clamping receiver.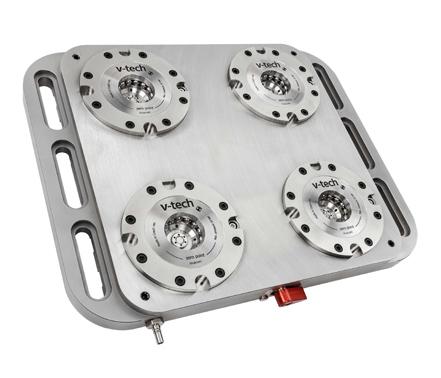 A V-Tech clamping base with four zero-point receivers.