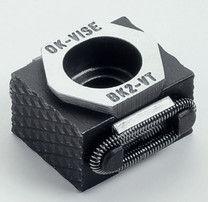 Novel Conversion Kits Enable Single Wedge Clamps To Provide Pull Down Action
A series of cover plate kits that enable single-wedge machining clamps to provide an additional pull-down action have been added to the range of OK-Vise low profile workholding equipment available from 1st Machine Tool Accessories (1st MTA).
Used in conjunction with inverted OK-Vise units, the new plate kits force the clamp's jaws to move both outwards and downwards as they bear against the wedge's taper. This generates high strength grip, as well as a pull-down action that draws the workpiece securely onto the fixture base.
The kits also incorporate purpose-designed bushes, which improve location of the inverted clamp by filling the recess normally occupied by the head of its tightening screw. In addition, the bushes minimise base plate thread wear in many high volume applications by allowing components to be secured using a threaded stud and hexagon nut.
The cover plate kits can be supplied either as accessories for existing single-wedge clamps, or as complete sets including new B, D or F-series workholding units.
Capable of generating up to 150 kN clamping force, OK-Vises offer an extremely compact and cost-effective method of retaining workpieces against fixed stops. They provide location in all three axes and are available in an extensive range of configurations to meet the demands of users throughout the metal working, plastics, aerospace and electronics industries. The clamps' low profiles also ensure excellent cutting tool access and the ability to machine in three planes without re-positioning – for maximum accuracy and productivity.
The full range of OK-Vise products are available from 1st MTA. If you have any questions or queries about the products mentioned in this article, please don't hesitate to contact us on 0800 783 0510 or enquiries@1mta.com.