Kitagawa 4th Axis Rotary Tables feature proven technology with high clamping torque, high accuracy, and high rigidity. With a wide range of tables to choose from there is a huge amount of flexibility on offer to meet whatever needs your machine shop may require. A rotary table is a quick, easy, and inexpensive way of increasing the capabilities of your machining centre, allowing you to increase accuracy, decrease cycle times, and machine more complex parts.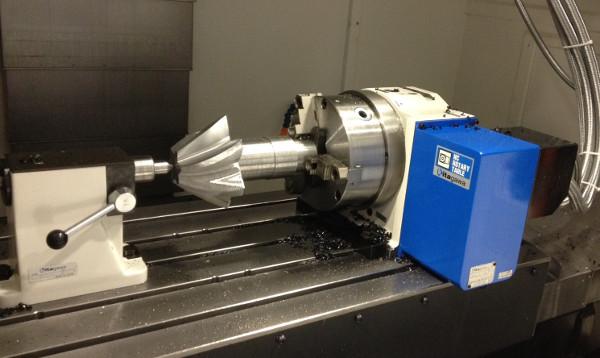 Flexibility
The range of Kitagawa rotary tables on offer is wide, with standard tables complemented by more specialist ones, giving utmost flexibility in fulfilling whatever machining needs are required.
The MR series is the standard and is perfect for the vast majority of machining needs. The GT series has a very high clamping torque, and is therfore capable of withstanding high cutting loads. The DM100 is Kitagawa's first fully water and rustproof table, to meet the requirements of EDM machining applications. The TP530 has a very large through-hole to facilitate accurate machining and drilling of shaft-type components, with the diameter of the through-hole sized to accept pipe up to 13 inches which is a standard used in the oil and gas industry.

The RK200 is an incredibly quick rotary table that can index 90 degrees in 0.31 seconds and has a maximum speed of 100 rpm, making it stuitable for aluminium work pieces where multifaceted or multi-hole drilling is required. If maintaining the size of the machining envelope is a priority, the Kitagawa CK160 has a smaller footprint than any other model on the market, with a depth of just 99mm. It can also be offered with a built-in seven-port rotary joint under the designation CKR160, with the footprint remaining at just 99mm. The TU series has a top-mounted motor, and the TB series has a back-mounted motor, both of which have been designed to reduce interference with the machining area.
Increase the capabilities of your current machine
Kitagawa rotary tables can add a rotary axis to your current machining setup, effectively turning your three-axis machine into a four-axis machine, for a fraction of the cost of a new machine with comparable specifications. Your three-axis machine can have the same precision and performance as a four-axis machine, therefore raising versatility of production, reducing the number of seperate machining operations, and increasing the complexity of parts that can be produced.
Every time a workpiece is repositioned between operations, accuracy is lost as it isn't possible to place it in the same place every time. A rotary table allows you to machine multiple part sides in a single setup, ensuring high accuracy and tolerances throughout the entire machining process.
Kitagawa MR160 boosts output by 40%
A Kitagawa MR160 rotary table helped boost production output by 40% at Llanberis-based DMM Engineering. Their CNC Manager said:
"These advanced positioning and workholding technologies allows us to keep down manufacturing costs in a fiercely competitive global market and ensure that we provide a highly flexible and responsive service to our customers."
Book a free onsite demonstration
If you would like to discuss Kitagawa Rotary Tables any further, you can contact us on 01725 512517 or enquiries@1mta.com to speak to one of our technical engineers, or arrange a FREE visit from one of our technical representatives. We look forward to hearing from you.