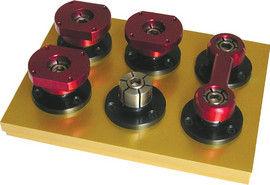 Mitee-Bite workpiece clamping products are the latest additions to the rapidly-expanding portfolio of workholding and manufacturing productivity equipment available from 1st Machine Tool Accessories (1st MTA).
The versatile Mitee-Bite range combines cost-effective clamping with fast and easy operation. Most items utilise a cam or wedge action and are operated by simply tightening a cap head screw. They also complement the extensive Chick, Abbott, Leave and OK-Vise ranges of workholding equipment already offered by 1st MTA.
Principal Mitee-Bite products include cam action Fixture clamps; compact and economical Uniforce clamps; novel Pitbull clamps; low profile Series-9 clamps; and ID Xpansion clamping equipment.
Capable of producing gripping forces of up to 6000 lbf, Mitee-Bite cam action Fixture clamps consist of a hardened steel socket screw with offset head and hexagonal washer. These quick-action units can also be supplied in stainless steel or with machinable mild steel washers for irregular components or other special purpose clamping applications.
Uniforce clamps incorporate a purpose-designed steel wedge which spreads the gripping forces uniformly on each side of the unit – to produce a bi-directional clamping action that enables the maximum number of workpieces to be nested on the machine table. Extended length variants are also available, with machinable jaws that can be easily profiled to individual requirements.
Mitee-Bite Pitbull clamps are characterised by their low profile and powerful pulldown action. They are produced in five sizes and a variety of styles, as well as two new modular versions. The compact modular type is ideal for clamping workpieces in series, by using the rear of one clamp to locate the next component, while the slotted modular version provides increased versatility by supporting components clear of the machine base for through milling or drilling operations. Both types are ideal for use with Chick foundation plates or faceplates and are produced in two sizes, with holding forces of 3,000 and 6,000 lbf.
Robust Series-9 clamps deliver adjustable, low profile clamping for different sized workpieces – simply by rotating the hexagonal units to one of their other clamping edges. Fast and effective in use, they are available with smooth or serrated edges and generate clamping forces of up to 4,000 lbf.
ID Xpansion clamps have been developed to grip parts on their internal diameter for HMC or VMC machining operations. Produced in 11 sizes to suit components with bores from less than 3/16 in (6.4 mm) to more than 7 in (178 mm), these machinable units are particularly suitable for second operation work and palletised setups. They are also complemented by Side-Loc variants, which are actuated by a socket head located on the side of the unit, rather than by the standard product's central screw.
Further Mitee-Bite products available from 1st MTA include multi-fixture stops and locating rails, knife edge clamps, toe clamps and Speedblock – a compact, manually operated system for applications where access may be restricted by workpiece dimensions.
"The addition of the Mitee-Bite range extends the versatility and capabilities of all our workholding systems," says 1st MTA's general manager, Catherine Kelly. "Mitee-Bite equipment is fully compatible with products from Chick, Leave, Abbott and OK-Vise – allowing users to 'mix and match' items to achieve the most cost-effective answer to their workholding needs. It also underlines 1st MTA's position as the leading one-stop shop for customers looking to enhance their competitiveness through increased productivity and reduced manufacturing costs."
The full range of Mitee-Bite products is available from 1st MTA. If you have any questions or queries about the products mentioned in this article, please don't hesitate to contact us on 0800 783 0510 or enquiries@1mta.com.